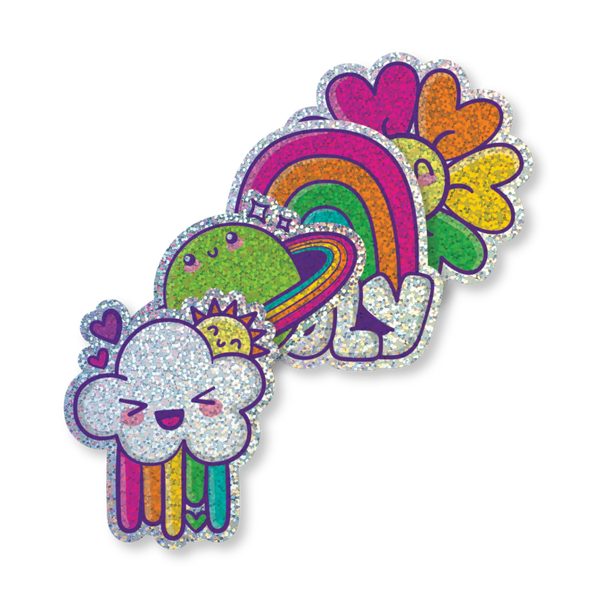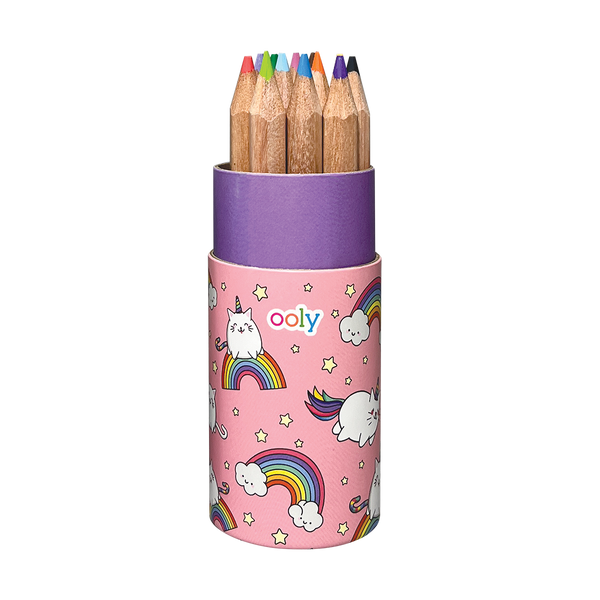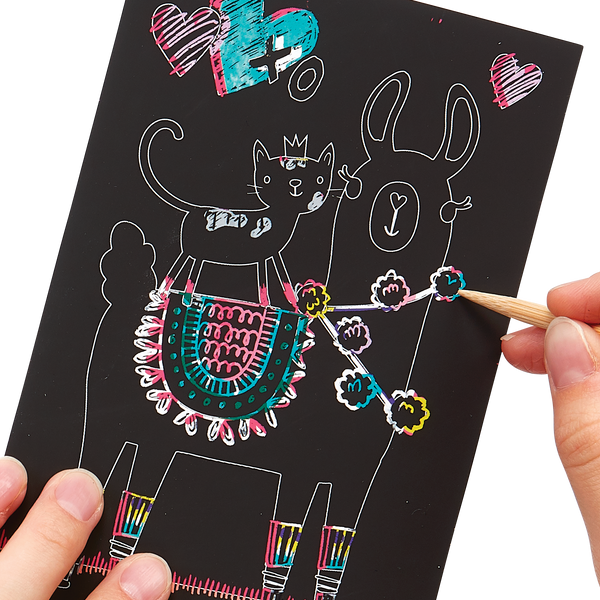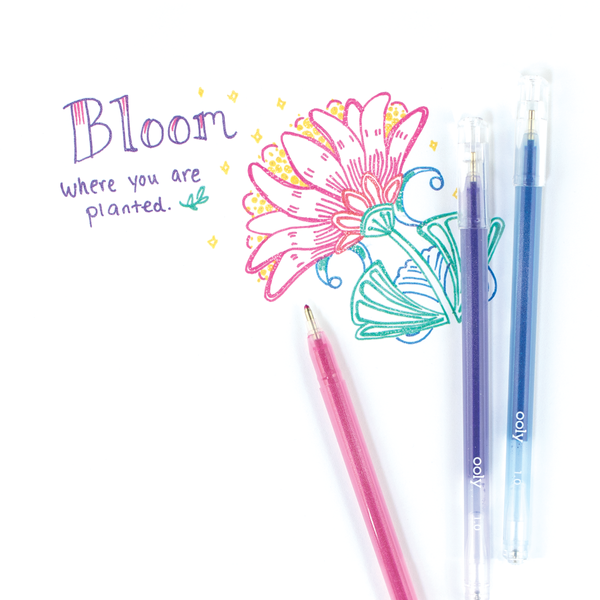 Ultimate Unicorn and Rainbow Bonus Box
---
Ultimate unicorns & rainbows meet ultimate savings!

This unicorn of a deal will have you seeing rainbows! With the Ultimate Unicorns and Rainbows Bonus Box, you get 15 amazing, sparkling, colorful, and enchanting unicorn and rainbow themed OOLY art supplies! Imagine an enchanting world where a treasure trove of your favorites is valued at over $132, but is yours for just $99.99! You get unicorn themed coloring books, click pens, stickers and temporary tattoos as well as rainbow themed glitter markers, sparkle gel crayons, scented erasers, and vinyl stickers. PLUS you get fantastical and colorful scented gel pens.

Bring the magical and delightful world of unicorns to life with the Enchanting Unicorns Coloring Book! From unicorn mermaids, to far away and majestic castles, this imaginative collection of unicorn coloring pages will be sure to delight!

Your classroom notes won't be the same with Yummy Yummy Scented Glitter Gel Pens. Bring life to your children's chore chart, or your own. You can even try these gel pens on your favorite coloring books for amazing glitter colors.

Make your own sparkly fun with this shimmering set of 15 Rainbow Sparkle Glitter Markers. This set of rainbow markers comes with 10 classic colors and 5 pastels colors so you'll have plenty of colors to make wonderful works of art.

Your classroom notes won't be the same with Yummy Yummy Scented Glitter Gel Pens. Bring life to your children's chore chart, or your own.

Enjoy the magical adventures of writing with this blue multi color pen decorated with lovely unicorns. The Unique Unicorns 6 Click Pen has six different colored inks.

Stay on top of your writing game with Stay Sharp Graphite Pencils. Each set Stay Sharps come with 6 pencils in candy colored rainbow barrels with refillable pencil leads.

Love rainbows? Who doesn't? Then the Rainbow Buddy Scented Jumbo Eraser is for you! A big eraser that will get the work done but look just as cute sitting on your desk.

These Stickiville Happy Rainbows sticker sheets are perfect for a quick dose of happy. Designed with metallic foil, each one features a cool watercolor look and boasts sweet pastel hues including blues, pinks, purples, and yellow.

This darling Stickiville Magical Unicorn sticker sheet features a herd of colorful, holographic glittery unicorns that are just waiting to be added to notebooks, journals, or your growing sticker collection. The sheet also features sweet quote stickers like 'be yourself,' because there's nothing like being one of a kind!

You never know when inspiration will strike, which is why this handy Draw n' Doodle mini colored pencil set is perfect for taking with you on-the-go. It includes 12 different colored pencils along with a pencil sharpener, all encased in a unicorn themed cardboard tube.

Happy was just made wearable with these Unicorn Party Tattoo-Palooza temporary tattoo sheets. Durable and long lasting, these charming temporary tattoos are perfect for birthday parties, sleep overs, or any gathering of creative kids!

Fuzzy unicorns and llamas accents adorn the whimsical cover of Funtastic Friends Sketchbook. Sketch and Show sketchbook has its own built in easel - type stand! The perfect combination of cute and practical!

Rainbow Sparkle Gel Crayons are made with a solidified gel that makes bolder and smoother strokes than normal crayons.

Llamas, unicorns, flamingos and sloths come together in a cute scratch art kit. The Funtastic Friends Scratch and Scribble mini scratch art kit is a travel sized activity kit where you scratch to reveal rainbow colored animals.

Make your writing and drawing glitter with amazing color with Radiant Writers Glitter Gel Pens! The eight radiant colors in this gel pens set will bring glittery life and happiness to anything you write or draw.

Enchanting Unicorn Coloring Book
Yummy Scented Twist-Up Crayons
Rainbow Sparkle Glitter Markers
Yummy Gel Pen 2.0
Unicorn 6 Click Pen
Stay Sharp Graphite Pencils
Rainbow Buddy Scented Jumbo Eraser
Stickiville Happy Rainbows Vinyl Stickers
Stickiville Magical Unicorns Stickers
Draw 'n Doodle Mini Colored Pencils and Sharpener - Set of 12 - Rainbow
Mini Tattoo Palooza Temporary Tattoos - Unicorn Party
Sketch & Show Standing Sketchbook - Funtastic Friends
Rainbow Sparkle Watercolor Gel Crayons
Funtastic Friends Scratch and Scribble Mini Scratch Art Kit
Radiant Writers Glitter Gel Pens

*Holiday Bonus Boxes: Offer ends 12/22/23 at 11:59pm PST. Only valid while supplies last. If a product is no longer available, OOLY reserves the right to substitute product(s) of the same or lesser value. Offer subject to change or termination without notice.
Shipping

We offer FREE ground shipping for orders $49+ in the Contiguous United States. Shipping for orders under $49 is calculated at checkout (generally less than $10).

Standard shipping orders typically deliver in 2-6 business days. For more shipping information, visit the Shipping & Returns page.

Returns

OOLY gladly accepts returns for a full refund within 30 days of purchase. Items must be returned in the original package in unused condition.

Customers are responsible for return shipping costs. For more shipping information, visit the Shipping & Returns page.
This product has no reviews yet.
shop all unicorn products
see more
Save 25%
Save 25%
Save 25%
Save 25%
This product has no reviews yet.